Did you know you can borrow up to 80% of the value of your home?
Today, lots of Canadians take advantage of being able to borrow more money against their home, and then use that extra money for a variety of different things, including:
Paying off higher interest debt, such as credit cards, or car loans
Renovations
Buying a second home or rental property (let us show you how, we're experts at this one!)
or even just taking a vacation!
Also, sometimes refinancing just makes sense, because it can be the best way for you to:
Lower your monthly interest costs (see our case study!)
Lower your monthly payments, easing your your monthly budget
Get a lower rate on your mortgage – yes, we do that too!
Be able to invest in more real estate
Now, the other major use for a refinance could be a budget shortfall. Lets say after you cut away as much spending as you can from your budget, you are short around $500/month, or $6000/year.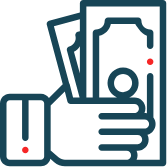 There's no reason to stress or just give up and let your credit card debts absorb the shortfall.
You could plan ahead for your shortfall by refinancing your home, and putting that money aside as your budget shortfall fund. Each month, you dip into that fund for only the $500 that you need. Normally it's also smart to work in a contingency for any other emergencies that come up.
At Olympic Mortgages, we can determine pretty quickly whether you can refinance your home. We will answer all your questions, figure out what your exact needs are, and then we can take you through the mortgage process, keeping you totally up to date along the way. All this with no fees, and the lowest rates around!